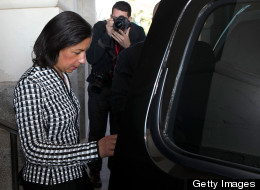 Rice might have been the scapegoat that would erase POTUS BHO's embarrassing address to the UNGA after Rice's TV appearances. Obama was lying through his teeth in the UN, but Rice certainly had the sense to know when she was being rolled by bad talking points for the TV Sunday gamut.
WH Press Sec'y Carney's limp dick defense of Rice indicated that the vibes were going the other way in the WH. Vietor knows that Rice has to have strong Senate support to get a higher job in State or elsewhere---she is somewhat 'damaged goods' in that now people know she can be rolled.
In the end, Rice showed poor political judgment in going out to appease McCain, Lindsay & Ayotte. Susan Collins delivered the coup de grace after the GOP triad had bloodied Rice after her confab. Better to keep her in the UN where she can stand up to the Russians and Chinese.
Read the Article at HuffingtonPost