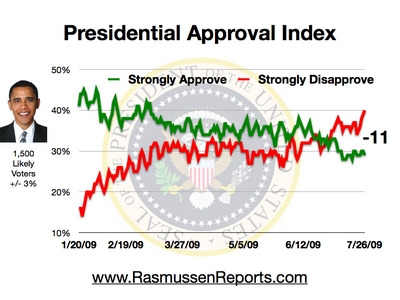 Obama's
witless off-teleprompter response about an agitpreppie Harvard Perfesser playing the race card has accelerated the trend southward of his public approval.
UPDATE
Mark Steyn
has his usual piercing analysis of this tenured Harvard moron and among the juiciest tidbits:
As to the differences between the professor's and the cops' version of events, I confess I've been wary of taking Henry Louis Gates at his word ever since, almost two decades back, the literary scholar compared the lyrics of the rap group 2 Live Crew to those of the Bard of Avon. "It's like Shakespeare's 'My love is like a red, red rose,'" he declared, authoritatively, to a court in Fort Lauderdale.
As it happens, "My luv's like a red, red rose" was written by Robbie Burns, a couple of centuries after Shakespeare. Oh, well. 16th century English playwright, 18th century Scottish poet: What's the diff? Evidently being within the same quarter-millennium and right general patch of the North-East Atlantic is close enough for a professor of English and Afro-American Studies appearing as an expert witness in a court case. Certainly no journalist reporting Gates' testimony was boorish enough to point out the misattribution.
And Mark recounts his own hilarious encounter with a Vermont state trooper, then finishes his article with a resounding coda:
Gates then told him, "I'll speak with your mama outside." Outside, Sgt. Crowley's mama failed to show. But among his colleagues were a black officer and a Hispanic officer. Which is an odd kind of posse for what the Rev. Al Sharpton calls, inevitably, "the highest example of racial profiling I have seen." But what of our post-racial president? After noting that "'Skip' Gates is a friend" of his, President Obama said that "there is a long history in this country of African-Americans and Latinos being stopped by law enforcement disproportionately." But, if they're being "disproportionately" stopped by African American and Latino cops, does that really fall under the category of systemic racism? Short of dispatching one of those Uighur Muslims from China recently liberated from Gitmo by Obama to frolic and gambol on the beaches of Bermuda, the assembled officers were a veritable rainbow coalition. The photograph of the arrest shows a bullet-headed black cop – Sgt. Leon Lashley, I believe – standing in front of the porch while behind him a handcuffed Gates yells accusations of racism. This is the pitiful state the Bull Connors of the 21st century are reduced to, forced to take along a squad recruited from the nearest Benetton ad when they go out to whup some uppity Negro boy.
As professor Gates jeered at the officers, "You don't know who you're messin' with." Did Sgt. Crowley have to arrest him? Probably not. Did he allow himself to be provoked by an obnoxious buffoon? Maybe. I dunno. I wasn't there. Neither was the president of the United States, or the governor of Massachusetts or the mayor of Cambridge. All of whom have declared themselves firmly on the side of the Ivy League bigshot. And all of whom, as it happens, are African American. A black president, a black governor and a black mayor all agree with a black Harvard professor that he was racially profiled by a white-Latino-black police team, headed by a cop who teaches courses in how to avoid racial profiling. The boundless elasticity of such endemic racism suggests that the "post-racial America" will be living with blowhard grievance-mongers like professor Gates unto the end of time.
In a fairly typical "he said/VIP said" incident, the VIP was the author of his own misfortune but, with characteristic arrogance, chose to ascribe it to systemic racism, Jim Crow, lynchings, the Klan, slavery, Jefferson impregnating Sally Hemmings, etc. And so it goes, now and forever. My advice to professor Gates for future incidents would be to establish his authority early. Quote Shakespeare, from his early days with Hallmark:
"Roses are red
Violets are blue
Victims are black
Like 2 Live Crew."
Thank God for the Sgt. Crowleys and the Mark Steyns of America. Even
Mayor Daley of Chicago
upbraided Obama for his mindless elitist dickheaded press conference remarks:
Daley said Obama — who has admitted he used a poor choice of words when he said Cambridge police acted "stupidly" by arresting Gates — should have known "you always have to have the facts" before responding to media questions.
A completely political animal like Richard Daley of Obama's hometown would not make that remark if the Rasmussen chart at the top of this piece wasnt' an accurate snapshot of the country's attitude toward Obama's elitist posturing.