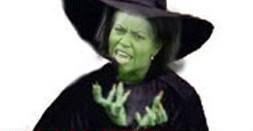 I"LL GET CHOO< MY PRETTY AND YOUR BIG FAT BEHIND TOO!!!
Mayor Bloomberg
as the
the ersatz RINO NYC Mayor is a pushover compared to mega-Michelle in the food-czarina department.
Michelle's
problems with the law
continue as she still has not explained how she lost that Illinois State Bar License in 1994.