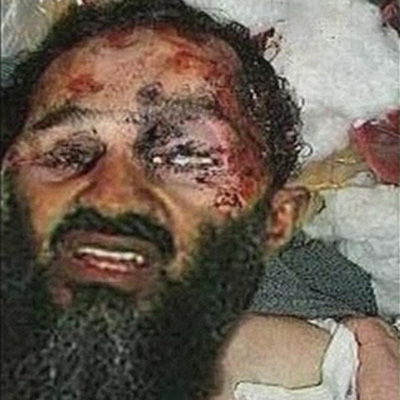 Looking a Little Under the Weather, Osama!
Andrew Malcolm
has a problem with the sycophantic drones and crones among the White House pressies.
Sunday was, Brennan revealed to his eager audience, "probably one of the most anxiety-filled periods of times in the lives of the people assembled here." Poor poor bureaucrats. Extra Tums all around. Did someone order dinner?

There may have been a little anxiety aboard those combat choppers. Who knows? We can't hear from them. And, as every day, anxiety in the kitchens, hearts and mind of thousands of military families who put up with the terrifying uncertainty of the dangerous deeds their loved ones have volunteered to secretly do for their country. During his 49 minute presentation Brennan did squeeze in one reference to the mission's "very brave personnel."

But the emphasis, with 2012 just around the calendrical corner, was on the boss' valor. "There was nothing that confirmed that bin Laden was at that compound," Brennan related as if such uncertainty is uncommon in war.

"And, therefore," Brennan continued, "when President Obama was faced with the opportunity to act upon this, the president had to evaluate the strength of that information and then made what I believe was one of the most gutsiest calls of any president in recent memory."

According to early reports of the incident, detailed here in The Ticket, 24 SEALs rappelled down ropes from hovering Chinooks in post-midnight darkness Monday Pakistan time with Osama security forces shooting at them. Brennan didn't have much time to go into all that today, the goal is to elevate the ex-state senator to at least a one-star commander-in-chief.
The White House Press Corps, with a few honorable exceptions like Jake Tapper, are a peanut gallery or a chorus of trained seals clapping on command whenever Jay Carney or BHO's other flunkies throw them a peanut or a fish.. "Most gutsiest" is a good grammatical lapse to describe the dysfunction of a White House that believes that BHO did the heavy lifting of cutting short his weekend to nine holes of golf. Actually, with the cumulative intelligence that the brave and brilliant CIA humint types had amassed, there was a ninety percent chance the compound held Osama or at least a very high-value inmate. So much for gutsiest. I will give him credit for having far more courage than the cowering coward BillyJeff Clinton had when he vetoed a kill-shot assault in Afghanistan in the late nineties. Michael Scheuer said he was happy Osama was gone, but despised BJ's cringing that "killed eight or nine of my friends later on down the road" because of presidential cowardice.
Here's something else that didn't get much recognition in all the street celebrations or all-hail-Obama briefings:

The trail to Monday morning's assault on Osama's Pakistan compound began during someone else's presidency. That previous president authorized enhanced interrogation techniques which convinced folks like Khalid Shaikh Mohammed to give up, among many other things, the name of their top-secret courier, now deceased. His travels ultimately led the CIA back to Osama's six-year-old suburban home.
funny about that, with all the lies and garbage thrown at GWB over enhanced interrogation by chicken-squat cowardly treasonous members of the professional left, it was the waterboarding that may have got the name of the "trusted courier" or at least scared the bejesus out of equally-scaredycat terrorist inmates.
UPDATE
Steve Coll
of New Yorker fame has the following indictment of our treasonous ally:
Abbottabad is essentially a military-cantonment city in Pakistan, in the hills to the north of the capital of Islamabad, in an area where much of the land is controlled or owned by the Pakistani Army and retired Army officers. Although the city is technically in what used to be called the Northwest Frontier Province, it lies on the far eastern side of the province and is as close to Pakistani-held Kashmir as it is to the border city of Peshawar. The city is most notable for housing the Pakistan Military Academy, the Pakistani Army's premier training college, equivalent to West Point. Looking at maps and satellite photos on the Web last night, I saw the wide expanse of the Academy not far from where the million-dollar, heavily secured mansion where bin Laden lived was constructed in 2005. The maps I looked at had sections of land nearby marked off as "restricted areas," indicating that they were under military control. It stretches credulity to think that a mansion of that scale could have been built and occupied by bin Laden for six years without its coming to the attention of anyone in the Pakistani Army.


The initial circumstantial evidence suggests that the opposite is more likely—that bin Laden was effectively being housed under Pakistani state control. Pakistan will deny this, it seems safe to predict, and perhaps no convincing evidence will ever surface to prove the case.

If I were a prosecutor at the United States Department of Justice, however, I would be tempted to call a grand jury. Who owned the land on which the house was constructed? How was the land acquired, and from whom? Who designed the house, which seems to have been purpose-built to secure bin Laden? Who was the general contractor? Who installed the security systems? Who worked there? Are there witnesses who will now testify as to who visited the house, how often, and for what purpose? These questions are not relevant only to the full realization of justice for the victims of September 11th. They are also relevant to the victims of terrorist attacks conducted or inspired by bin Laden while he lived in the house, and these include many Pakistanis, as well as Afghans, Indians, Jordanians, and Britons. They are rightly subjects of American criminal law.
Outside the Justice Department, other sections of the United States government will probably underplay any evidence of culpability by the Pakistani state or sections of the state, such as its intelligence service, I.S.I., in sheltering bin Laden. As ever, there are many other fish to fry in Islamabad and at the Army headquarters, in nearby Rawalpindi: an exit strategy from Afghanistan, which requires the greatest possible degree of coöperation from Pakistan that can be attained at a reasonable price; nuclear stability; and so on.
Pakistan's military and intelligence service takes risks that others would not dare take because Pakistan's generals believe that their nuclear deterrent keeps them safe from regime change of the sort under way in Libya, and because they have discovered over the years that the rest of the world sees them as too big to fail. Unfortunately, they probably are correct in their analysis; some countries, like some investment banks, do pose systemic risks so great that they are too big to fail, and Pakistan is currently the A.I.G. of nation-states. But that should not stop American prosecutors from following the law here as they would whenever any mass killer's hideout is discovered.
Of course, Mullah Omar and Al Qaeda's No. 2, Ayman al-Zawahiri, probably also enjoy refuge in Pakistan. The location of Mullah Omar, in particular, is believed by American officials to be well known to some Pakistani military and intelligence officers; Omar, too, they believe, is effectively under Pakistani state control. Perhaps the circumstantial evidence in the bin Laden case is misleading; only a transparent, thorough investigation by Pakistani authorities into how such a fugitive could have lived so long under the military's nose without detection would establish otherwise. That sort of transparent investigation is unlikely to take place.


On who was living with Bin Laden:


The early reports suggest that he was living with his "youngest wife." Bin Laden, who was fifty-three years old when he died, had always lived surrounded by family and children, so it is not surprising that he had managed to do so even as a fugitive. He is known to have married at least four times. His first wife was a cousin from Syria. His second and third wives were highly educated Saudi women. His fourth wife was a kind of mail-order teen-age bride from Yemen, whom he married while living in Afghanistan during the nineteen-nineties, according to the account of bin Laden's former Yemeni bodyguard. Bin Laden's Syrian and Saudi wives were said to have gone home before or immediately after the September 11th attacks, and the Saudi wives were said to be living in the kingdom, without contact with Osama. When I visited Yemen in 2007, to conduct research on the bin Laden family, Yemeni journalists told me that his youngest wife had returned home and was living in the region either of Tai'zz or of Ibb, significant cities to the south of Sanaa, the capital. It seems that she may have found her way to Pakistan to live with her husband. My own guess had been that bin Laden would have accepted informal divorce from his older wives on the ground of involuntary separation, and would have remarried a local woman or two while in hiding in Pakistan, perhaps a daughter presented by one of his Pathan hosts. That is at least conceivable as well. Apparently, one of his adult sons was killed in the raid. Osama has more than a dozen sons. Some have returned to Saudi Arabia, but others have appeared in videos with their father, vowing to fight alongside him. It is conceivable that one of his sons could make a claim on Al Qaeda leadership in the years ahead.


On what bin Laden's death means for Al Qaeda:


On the constructive side: The loss of a symbolic, semi-charismatic leader whose own survival burnished his legend is significant. Also, Al Qaeda has never had a leadership succession test. Now it faces one. The organization was founded more than twenty years ago, in the summer of 1988, and at the initial sessions bin Laden was appointed amir and Ayman al-Zawahiri deputy amir. It is remarkable that, for all the No. 3s who have been killed, and for all the ways in which it has been degraded since September 11th, Al Qaeda had retained the same two leaders, continuously, for so long. Zawahiri is famously disputatious and tone-deaf. His relatively recent online "chat" taking questions about Al Qaeda's violence did not go well. Bin Laden was a gentle and strong communicator, if somewhat incoherent in his thinking. Zawahiri is dogmatic and argumentative, and has a history of alienating colleagues.
On the other hand: Al Qaeda is more than just a centralized organization based in Pakistan. It is also a network of franchised or like-minded organizations, and an ideological movement in which followers sometimes act in isolation from leaders. The best guesstimates are that Al Qaeda has several hundred serious members or adherents in Pakistan, along the Pakistan side of the Pakistan-Afghanistan border, and perhaps up to a hundred scattered around Afghanistan. Just last week, the German government disrupted a cell near Dusseldorf in which one of the members, of Moroccan origin, had allegedly travelled to the Pakistan-Afghanistan border, where he received explosives training from an Al Qaeda contact. Al Qaeda in the Arabian Peninsula, based in Yemen, appears to be just as potent. Dan Benjamin, the State Department counterterrorism coördinator, gave a speech last week at New America that provided a very good, up-to-date summary of Al Qaeda and its affiliates worldwide, their capabilities and connections to one another.



On the hunt itself:


After President Obama took office, he and the new Central Intelligence Agency director, Leon Panetta, reorganized the team of analysts devoted to finding Osama bin Laden. The team worked out of ground-floor offices at the Langley headquarters. There were at least two-dozen of them. Some were older analysts who had been part of the C.I.A.'s various bin Laden-hunting efforts going back to the late nineteen-nineties. Others were newer recruits, too young to have been professionally active when bin Laden was first indicted as a fugitive from American justice.
As they reset their work, the analysts studied other long-term international fugitive hunts that had ended successfully, such as the operations that led to the death of the Medellín Cartel leader Pablo Escobar, in 1993. The analysts asked, Where did the breakthroughs in these other hunts come from? What were the clues that made the difference and how were the clues discovered? They tried to identify "signatures" of Osama bin Laden's life style that might lead to such a clue: prescription medications that he might purchase, hobbies or other habits of shopping or movement that might give him away.
The Langley analysts were one headquarters egghead element of the hunt. Similar analytical units, at Central Command, in Tampa, and at the International Security Assistance Force, in Kabul, sorted battlefield and all-source intelligence, designated subjects for additional collection, and conducted pattern analysis of relationships among terrorists, couriers, and raw data collected in the field. Detainee operators in Iraq, in Afghanistan, at Guantanámo, and at secret C.I.A. sites also participated. Apparently, the breakthrough started several years back from detainee interrogations; it's not clear yet how or by what means the information about the courier who led to the Abbottabad compound was extracted.
Overseas, C.I.A. officers in the Directorate of Operations and the Special Activities Division—intelligence officers who ran sources and collected information, as well as armed paramilitaries—carried out the search for informants from bases in Afghanistan and Pakistan. Units from the military's Joint Special Operations Command, which includes the Navy Seals, Delta, and other specialized groups, joined in. Often, Special Operations and the C.I.A. worked in blended task-force teams deployed around Afghanistan, and, more problematically, as the Raymond Davis case indicated, around Pakistan.
These teams searched not only for bin Laden but also for other "high-value targets," as they are legally and bureaucratically known inside the U.S. government. My understanding is that, as of this spring, there were approximately forty legally designated, fugitive high-value targets at the top of the wanted-list system. If there were forty, I suppose there are now thirty-nine.
UPPERDATE
:
Obsequious Toady and Serial :Suck-Up Rick Hertzberg's
analysis can be boiled down to one paragraph. After analyzing the difference between Carter's failed 1980 Rescue Attempt and Obama's Killing of Osama:
The biggest difference, of course, is that the 1980 mission failed, whereas the 2011 raid has succeeded. Spectacular failure in Iran pretty much guaranteed President Carter's defeat in his campaign for reëlection. Spectacular success in Pakistan makes Obama's defeat markedly less likely.
Yeah, Rick, that's what they said about George H. W. Bush in 1991 after the blitzkrieg victory over Iraq. How'd that turn out again?